Val Thorens - transfer guide
Val Thorens is a short transfer from Moutiers station by bus or taxi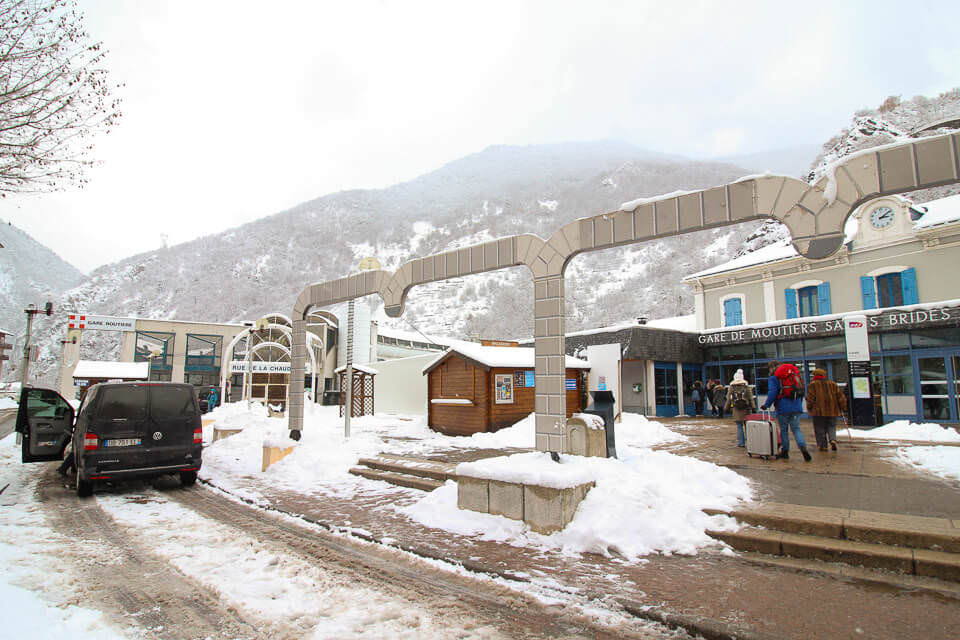 Daniel Elkan, Moutiers train station
How to transfer from Moutiers to Val Thorens
Val Thorens is a short transfer from Moutiers station, by bus or taxi. Buses depart from right outside the station, and there's a taxi rank there too. The station has a waiting room and there's a large cafe, Les 3 Vallées Cafe, right by the station. More cafes, hotels and shops are nearby too
---
Taxi transfers: Moutiers station - Val Thorens
| Taxi company | Telephone | Email address | Website |
| --- | --- | --- | --- |
| Taxi 73 | +33 6 59 810 425 | allo73taxis@gmail.com | Website |
| G' Taxi | +33 761 53 85 10 | info@gtaxi-meribel.com | Website |
| Alba Taxi Moutiers | +33 4 79 24 25 12 | info@taxi-moutiers.com | Website |
| Meri Taxis | +33 479 08 58 22 | meritaxi@wanadoo.fr | Website |
| Alpes Taxi Transports | +33 479 00 47 37 | info@alpestaxistransports.com | Website |
| Up Bus | +33 78 283 6487 | theupbuscompany@gmail.com | Website |
Taxi journey duration and prices (on average, researched in 2019)
From Moutiers to
Duration
1-4 pax
5 pax
6 pax
7 pax
8 pax
Val Thorens
55 mins
110€
120€
130€
140€
150€
---
Bus transfers - Moutiers - Val Thorens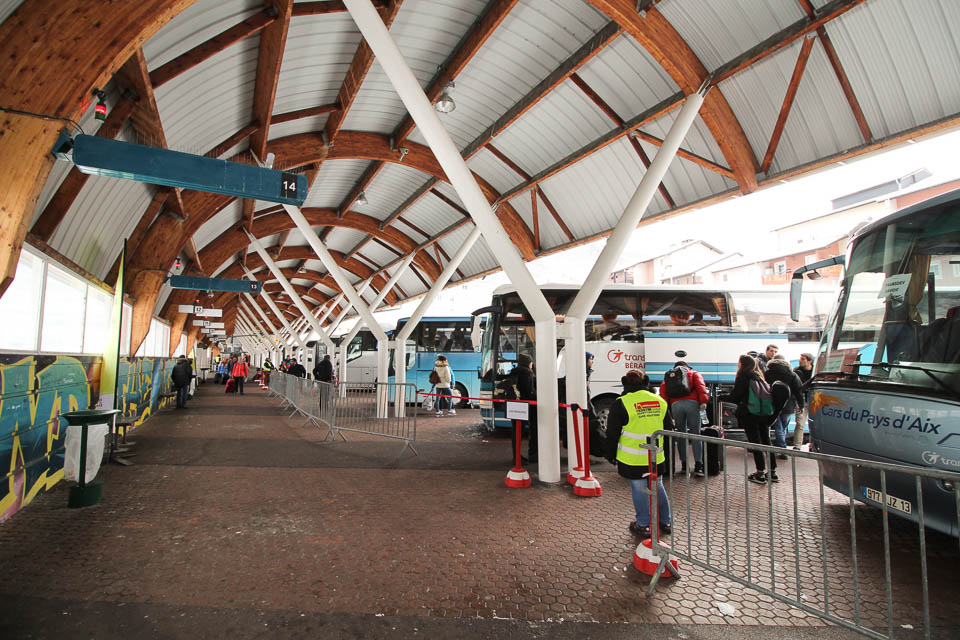 Daniel Elkan, Moutiers bus station
Buses depart from a bay adjacent to Moutiers station, so you literally arrive from the train and the bus station is right there.
If there is gap before getting your bus (or conversely, before getting your train, there are lots of restaurants and cafes within a two minute walk of Moutiers station - and indeed some right opposite the station - more information below.
You can buy bus tickets at a counter at the train station, but it is recommended to buy them in advance online at www.altibus.com which shows timetable information too.
At the moment it doesn't look like the bus company will publish a timetable in English.
Here is the Moutiers to St Martin, Les Menuires and Val Thorens winter 2023-24 bus timetable - in French
Altibus contact details and booking
Phone number: +33 4 79 68 32 96
Email address: info@altibus.com
Book tickets: altibus.com
Tickets cost: Adults €12; youth (2 -26) €7.56
---
Moutiers station information and restaurants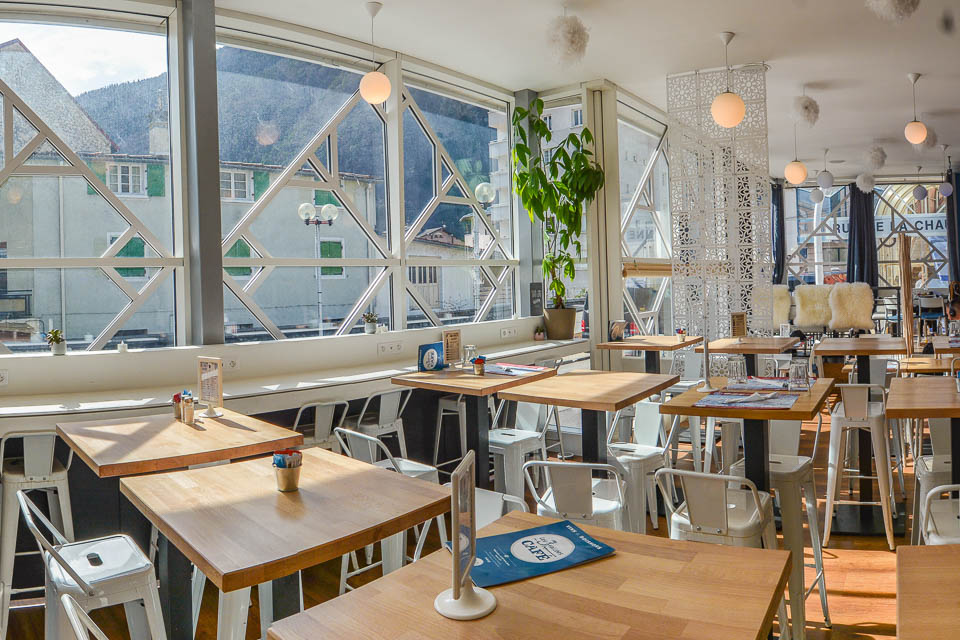 Daniel Elkan, Les 3V Cafe Moutiers
Moutiers station has a waiting room and a welcoming cafe and bar, called Les 3 Valees Cafe (more details below), which is a great place to have coffee, a meal or drinks. There are a number of restaurants opposite the station, such as Moutiers Terminus, which is also a hotel where you can enjoy a meal after arriving, or before catching a train back home.
There are several hotels, restaurants and bars in Moutiers, just a couple of minute's walk away, too, and lots of other shops in Moutiers as well. The excellent Ski Flight Free website has created a useful guide to Moutiers station.
---
Les 3 Vallées Cafe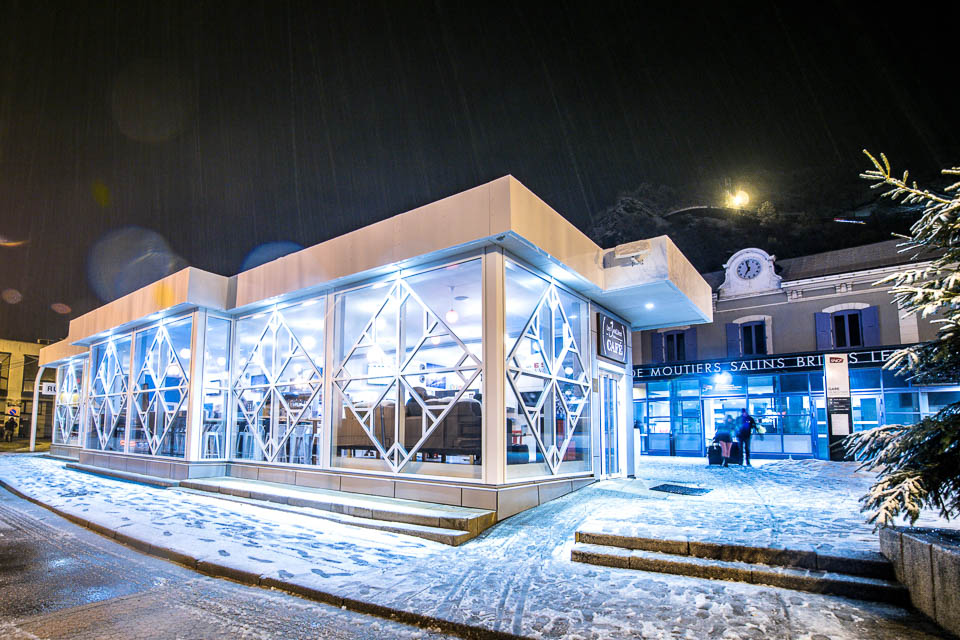 Les 3 Vallees Cafe
Les 3 Vallées Cafe is an excellent cafe and bar inside Moutiers station.

It serves a wide range of meals as well as specialising in coffee, cappuccino and gourmet hot chocolate. Every evening, between 5pm and 8pm, you can have cocktails - and the cafe prides itself in its mojitos of various kinds.

This is an excellent place to have dinner and/or drinks before boarding the overnight Eurostar Ski Train, for example. Or breakfast before catching the daytime Eurostar Ski Train, or a TGV.

The cafe also serves cold sandwiches, fresh and creative salads which you can take on board the train, as well as a range of homemade pastries (cheesecake, carrotcake, tarts and muffins ...) - using organic ingredients where possible. There's also a Beaufort-cheese vending machine!
Opening Times: 15 December to 1 MAY:
Monday to Thursday: 10:00 to 18:00
Friday and Sunday: 08:00 - 23:00
Saturdays: 06:00 - 23:00