Eurostar cancels via-Lyon 2017-18 winter service
Sun 08 Oct 2017
By: Daniel Elkan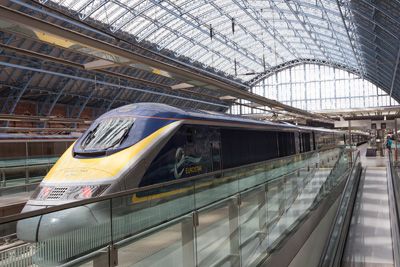 There's a scene in the brilliant film No Country For Old Men, where Sheriff Bell and his deputy arrive in the desert to a scene where there has been a shootout between rival gangs. Abandoned cars and bodies lie everywhere.
Deputy Wendell: [Viewing the desert crime scene] "It's a big old mess, ain't it, Sheriff?"
Sheriff Ed Tom Bell: "Well if it ain't, it'll do till the mess gets here."
The way that rail travel to ski resorts is organised by train operators, sometimes reminds me of this scene. There is much that rail operators to well, but often too they get things spectacularly wrong.
Eurostar's cancellation of it's via-Lyon service for winter 2017-18 is, in my opinion, one such case - a bit of a shambles. It's a sad day when rail companies cancel useful services, and when I told a friend's dog about the cancellation, she was sad too (see picture).
The cancellation will come as a disappointment to the many skiers who had started using it. What's more, thousands of skiers that hadn't yet tried it, nor even knew what options it could provide, won't have the chance to do so. Not this winter anyway.
Why the Eurostar-via-Lyon service was useful
Eurostar's via Lyon service provided an alternative route to a wide array of French ski resorts, because you could travel from London or Ashford to Lyon and then switch platform and take a local SNCF train to your ski destinaion. For skiers unable to book onto the direct Eurostar Ski Train or who wanted to travel to ski resorts not served by the Ski Train and avoid changing station in Paris, the via-Lyon service was a good option.
When it launched I wrote articles about the new service for a number of publications, including , The Independent, The Telegraph, National Geographic Traveller, Food & Travel, Ski+board magazineInTheSnow, WeLove2Ski and others.
This media coverage, as well as the Snowcarbon website and the various rail company websites helped skiers find out about the service. So what went wrong?
How Eurostar's got it wrong with marketing thier winter service via Lyon
This is how I believe that Eurostar got it supremely wrong when they launched and marketed their winter via-Lyon service.
1. Online you couldn't book the whole journey in one go
When the service launched, it was impossible to book the Eurostar to Lyon and the onward SNCF journey in one go. Naturally, this was a source of consternation to skiers. It's an obvious point to make, but if you are going to book a new journey for your family or for a group of friends, you want the convenience and certainly of being able to book all the trains in one go. Not only could you not do that, but information about why you couldn't do that was lacking. If you know about rail-booking agency services such as Ffestiniog Travel's point-to-point rail-booking service, you could. But most skiers don't.
2. Eurostar didn't inform tour operators about the service
There are many ski tour operators who would have liked to easily incorporate these via-Lyon journeys into packages, to help service and attract ski clients who want to travel by train. But the ones that I spoke to seemed to be in the dark about the via-Lyon service. Nor did Eurostar or SNCF give them some fixed prices that make it easy for them to package up the train. As a result, they were not able to easily and proactively market these packages (Snowcarbon helped them to create some packages, but that's not the same as them getting a fixed price from the train companies). This was a big missed opportunity.
3. Eurostar didn't give the service a fighting chance
When you launch any new product or service, whether it be a train route, a chalet, a chocolate bar or a plastic-free supermarket, you need to give it time to be a success. In the case of a winter train route, that means more than one season. However, in the 2nd season, Eurostar dithered and launched the service relatively late (in October) instead of in July as it had done in the first season. Again, problems 1 and 2 still broadly applied. Then, a few weeks after tickets had gone on sale, Eurostar decided to cancel several non-peak weeks because it was worried that the trains wouldn't sell well on those dates. That was hardly a show of confidence in it's own product, and of course having only peak weeks makes the whole communication of the service more difficult. Much easier to communicate and digest that a rail service runs every Saturday than to have to try to get people to understand which certain dates a train runs on.
The future for this service
My philosophy is that if something bad happens, then it's OK to be angry, frustrated, annoyed or sad initially, but after that the best thing is to be resolved to do what you can to change things. So I'm going to try to take some positive action, and that means making a meeting with Eurostar to understand more about why they cancelled the service (there may be some factors of which I'm not aware, of course) and to make suggestions for how it could be reinstated and run more successfully. Watch this space, and I'll report back soon.
In the meantime
Any of the destinations that you could reach via Lyon you can still reach via Paris. And changing in Paris is easy by pre-booked transfer, as this one-minute film shows. So there is no need to despair. But we need more trains to ski resorts, including via Lyon.