Journeys combining Eurostars with high-speed TGV trains mean you can reach a huge range of resorts with daytime journeys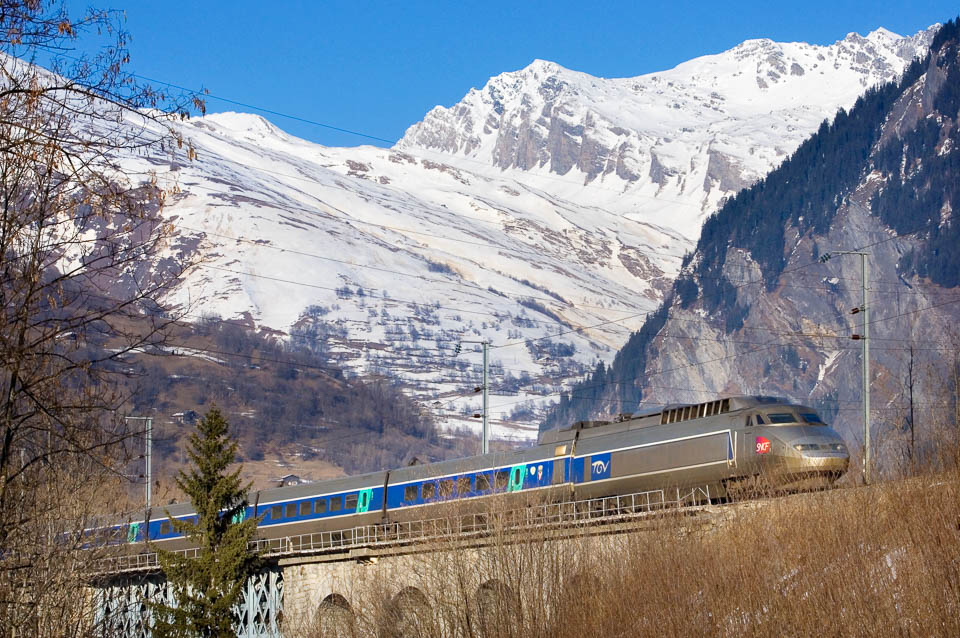 Taking a Eurostar to Paris, then a TGV train from Paris to the Alps, is a good way to travel. It's not a direct as taking the direct Eurostar Ski Train (obviously) but it does have some advantages:
1. You can reach more far more resorts this way - because there are more routes
2. There lots of journey options, and you can travel on any day of the week
3. Breaking the journey in Paris can be fun and interesting
4. In Standard Class, TGVs have more table seats than the Travelski Express (Eurostar Ski Train).
5. You can travel independently this way.
This is certainly a way of travelling that, like the Eurostar Ski Train, we would recommend.
---
Step 1: Take a Eurostar to Paris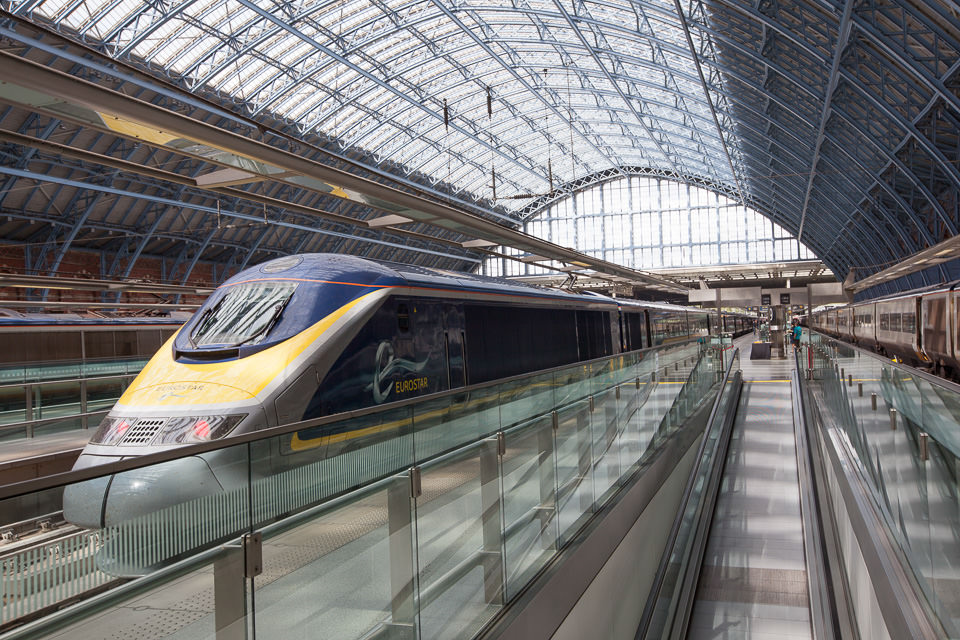 Eurostar International
You get on the Eurostar, sit down, have a chat with your friends, go to the cafe bar, read a book, look at the scenery gliding by, share a joke with a fellow passenger.
There are lots of great ways to use the time and then before you know it your Eurostar is arriving in Paris-Nord.
You may also want to see our guide to what the Eurostar is like.
---
Step 2: Change from Paris-Nord to Paris-Lyon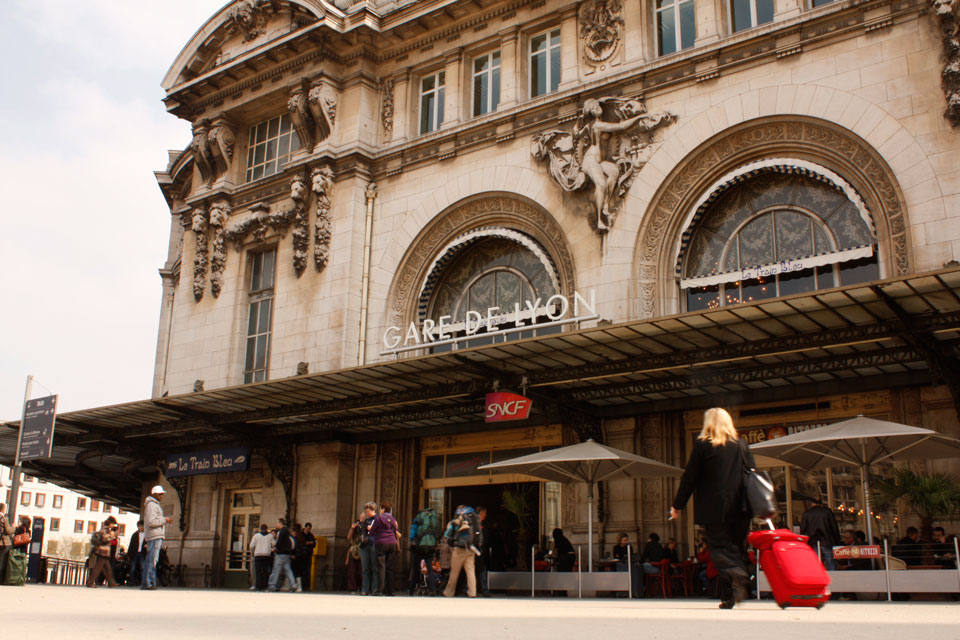 So next you want to get from Paris-Nord, where the Eurostar arrives, to Paris-Lyon - the station from where the TGVs depart, bound for the Alps.
The easiest way to do that is with a pre-booked taxi, where the driver waits for you at the end of the Eurostar platform, holding a placard with your name. But there is also a taxi rank, a 50 metres to the right of the Eurostar platform.
You can also use the RER (part of the Metro) which is pretty simple to do. When you get to Gare de Lyon, you can have lunch if there is time, or bring some food onto the TGV (which also has a cafe bar).
You can find all about these options in our guide to changing station from Paris-Nord to Paris-Lyon
---
Step 3: Whizz to the Alps on the TGV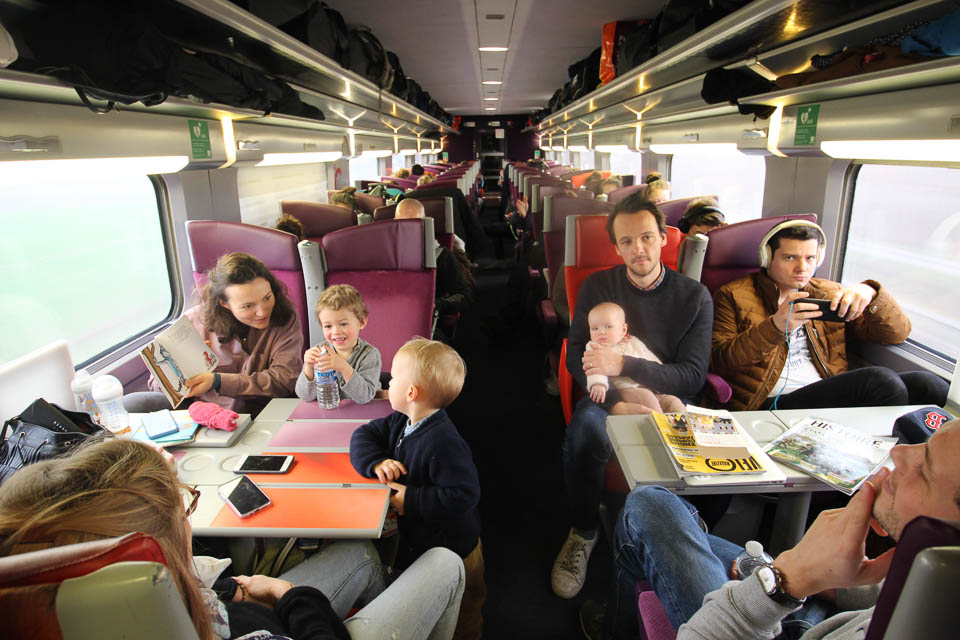 Daniel Elkan
Now you are on the TGV, Paris slipping away as you speed out of the suburbs and through the French countryside.
Fields, lakes, farms, houses - you'll see what people do with their back gardens, what little villages look like here.
Head to the cafe bar, grab a meal, some snacks, coffees or a bottle of wine. Have a snooze, do some work, play games, chat, dream about the slopes. When you arrive at your destination station, it is a relatively short taxi or bus ride up to your ski resort.
You may also want to see our guide to what the TGV is like.
---
Step 4: Transfer to your resort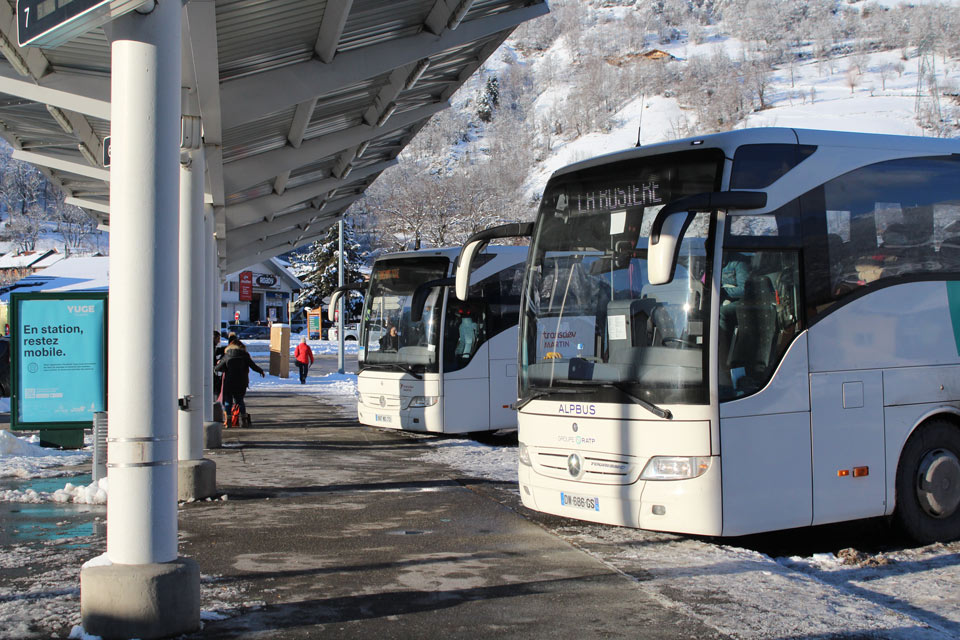 Daniel Elkan
The final step is to get from the train station to the ski resort. These transfers are typically between 20 minutes and 45 minutes. This is far shorter than airport transfers - which can take anywhere from 1.5 to 3 hours - or even longer.
It's a good idea pre-book a taxi transfer, although at popular stations like Bourg St Maurice and Moutiers you can find a taxi driver on the spot too.
There are also buses from train stations to ski resorts, usually timed to coincide with the arrival of the TGV.
For every ski resort on the Snowcarbon website, we have a transfer guide page to show you taxi and bus options and how to book them.
---
TGV durations from Paris
TGVs travel at speeds of up to 300km/h. Here's a table showing some of the key train stations that access ski resorts with a single TGV journey from Paris. The table shows how long the journey takes from Paris, and the average number of direct TGV departures to a given destination per day, based on Saturday schedules in winter.
| | | |
| --- | --- | --- |
| Destination station | Duration | Direct TGVs per day |
| Annecy | 3h 45m | 5 |
| Aime la Plagne | 4h 39m | 8 |
| Bellegarde | 2h 45m | 9 |
| Bourg St Maurice | 5h 00m | 8 |
| Cluses | 4h 42m | 2 |
| Geneva | 3h 15m | 7 |
| Grenoble | 3h 13m | 6 |
| Landry | 4h 50m | 8 |
| Modane | 4h 04m | 8 |
| Moutiers | 4h 19m | 8 |
| Oulx | 4h 40m | 4 |
| Sallanches | 5h 01m | 2 |
| St Avre le Chambre | 3h 47m | 2 |
| St Gervais | 5h 09m | 2 |
| St Jean de Maurienne | 3h 39m | 3 |
| St Michel Valloire | 4h 14m | 2 |